---
What are Zebra Shades?
One of the biggest trends in window coverings right now that has created a buzz within the industry is the Zebra Shade. So what is a Zebra Shade? You can think of them as a hybrid of a standard blind and roller shade. Also referred to as a Layered, Dual, or Banded Shade, this innovative window treatment offers the light control of a blind AND the soft beauty of a fabric roller shade. In this blog we will be sharing why we LOVE Zebra Shades and why we feel like they are here to stay!
DESIGN VERSITILITY
Zebra shades are extremely versatile and can fit in any style home. They are considered "transitional" meaning they work with contemporary designs, as well as, traditional—and everywhere in between! Like a roller shade, they offer clean lines that fit perfectly with modern/contemporary settings but also can fit right into the traditional décor due to their soft sheer fabrics.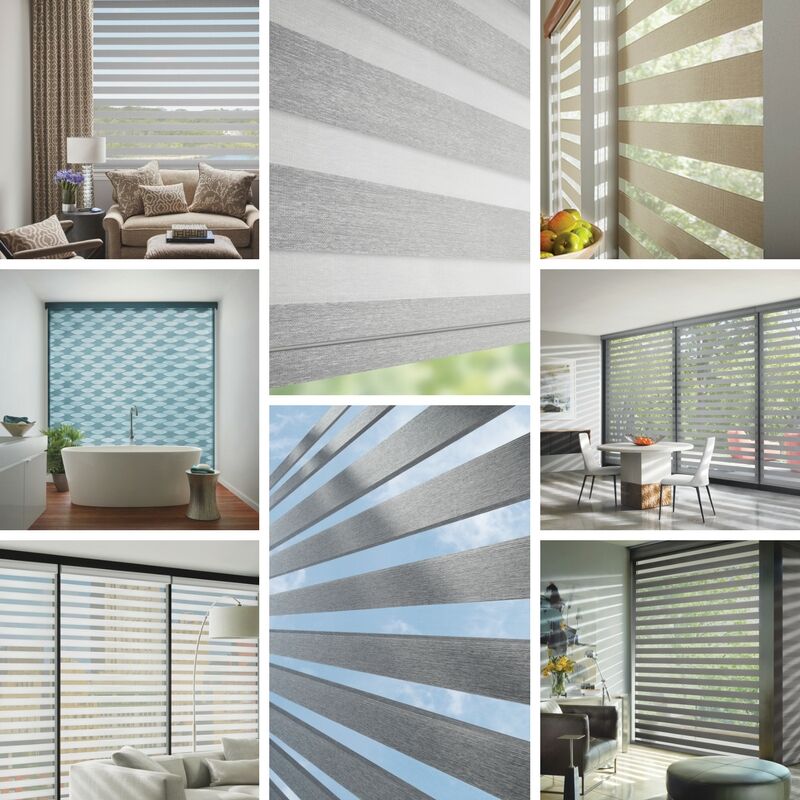 LIGHT CONTROL
Zebra shades feature a combination of sheer and solid fabrics in a single shade. Much like opening and closing the slats of a blind, Layered Shades control light by alternating the bands from open to close. Want more light? Leave the vanes open and light will stream in through the beautiful sheer fabric. You can also raise the shades completely into their cassette valance and have a full view to outside with no obstructions in the window. Desire some darkness and privacy? Close the vanes completely. Room-darkening fabrics are also available, perfect for bedrooms and media rooms.
MOTORIZATION
Have hard to reach windows or large window openings? No problem! Motorization is available allowing you to operate your shades from virtually anywhere in the home. You can operate your shades simultaneously or individually. This saves you time and hassle, and is quite a wow-factor when entertaining guests!
FABRIC OPTIONS
Zebra shades have a wide variety of fabric, texture, and color options available. Go bold with bright colors, or keep it neutral! Choose light filtering or room-darkening fabrics to completely customize each room! There are even geometric designs available!
UV PROTECTION
Zebra shades are your friend when it comes to protecting your furniture and floors from the harsh sun. We sell flooring as well so we know first-hand how damaging the sun can be on interior fixtures within the home. Layered shades, when closed, block out 99% of UV rays!
So, as you can see, Zebra Shades are pretty awesome! We sell these beautiful shades quite often and every client who purchases them LOVES them. They are most definitely here to stay! Ready to transform your home? Contact us to schedule a FREE in-home design consultation and see if Layered Shades are right for you!