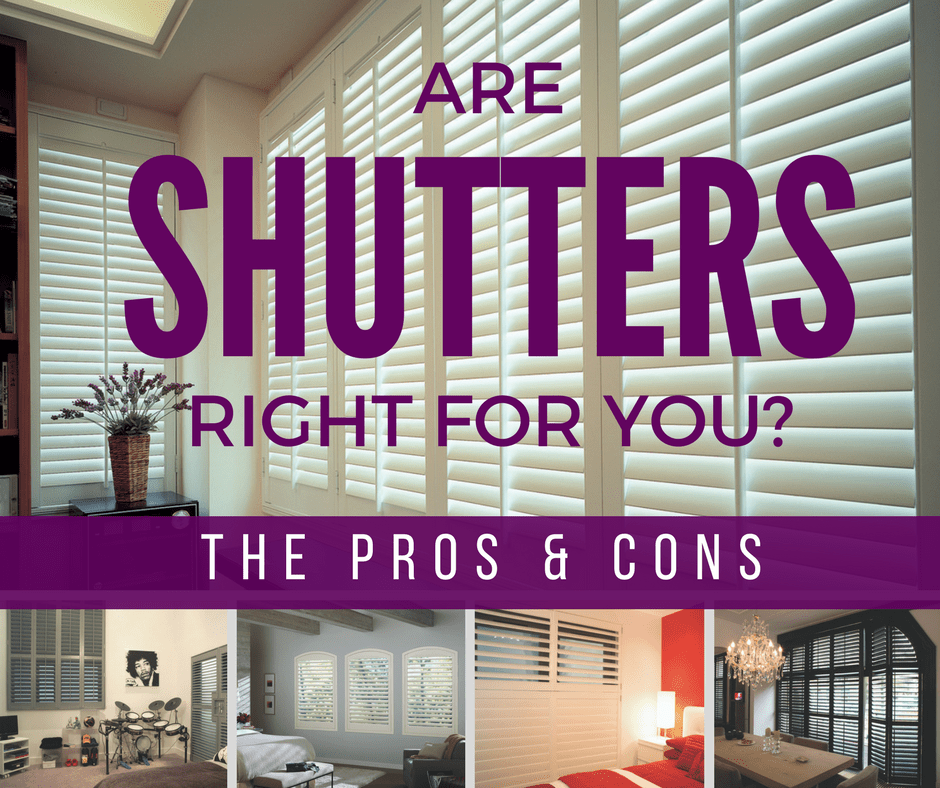 ---
Shutters: The Pros and Cons
Shutters, sometimes referred to as "Plantation Shutters," are one of our absolute favorites, as well as one of the more popular window coverings sold here in San Antonio. However, just because we love them, does not mean that they are for everyone. Here we will break down the pros and cons so that you can best decide whether they are right for you and your home.
Let's starts with the CONS:
CONS
HIGHER PRICE POINT
I'd say the con that most often deters clients from choosing shutters is their cost. While shutters are not always the most expensive option when it comes to window coverings (some shade categories can cost as much and sometimes more), they are on average 4 times the cost of a blind in the same size window. Shutters are definitely an investment. When budget is an issue, we have many clients who choose to just use shutters on their front elevation (the windows facing the street).
NO HIDING
We often have clients who love the ability to have a full view to the outside during the day allowing tons of natural light to enter their home, and only want something covering their windows at night for privacy. If you are someone who wants a window covering product that can completely disappear from sight, shutters are probably not for you. While shutter panels can open and rest on the sides of a window, they are always visible—unlike a shade which can be raised and hidden in a cassette or valance.
TRICKY FOR TILT-IN WINDOWS
If you have tilt-in windows, shutters can inhibit their functionality. Technically, a shutter can still work with tilt-in windows, however, they must be mounted on the outside of your window opening. Many people prefer the flush look of an inside or semi-inside mount shutter compared to outside mount (some find outside mount to be more bulky), however, this is the only option available with tilt-in windows if you choose to preserve that feature.
FURNITURE PLACEMENT CAN INHIBIT FUNCTIONALITY
If you plan on placing a piece of furniture in front of your window, shutters may not be the best option for you. In order to hinge open a shutter panel, you need at least the width of the panel to be clear in front. During consultations with clients, we always point out furniture placement when shutters are desired.
LEAD TIMES
If you are in a huge hurry to cover your windows, it's important to note that shutters have the longest lead time of any other window covering. While most other products such as blinds and shades take around 2-3 weeks to arrive, shutters can take up to 6-8 weeks! You can think of shutters as fine furniture being custom built for your windows. That takes time! We always educate our clients who are building or moving into a new home, likely lacking window coverings, that if they wish to have shutters they need to be ordered well before the move in date. It's best to be proactive in these situations, but thankfully, temp shades were invented as a temporary fix when our clients need something on their windows during the wait.
Enough with the negative! Now for the PROS:
PROS
INCREASE VALUE OF YOUR HOME
Shutters are the ONLY window covering product that actually increase the resale value of your home. Even if you are not planning on moving anytime soon, it is still something to consider. An investment now could lead to a bigger profit if and when it comes time to sell your home. Plus you get to enjoy their beauty and function before it is time to sell.
AESTHETIC QUALITY
While everyone has their own unique tastes, an overwhelming majority of people (especially here in the South) LOVE the look of shutters. They are timeless and never go out of style. Due to the fact that they cannot be purchased off the shelf like some other window coverings, they offer a truly custom look. Whether your style is traditional, transitional, or contemporary, there is a shutter style to match. Additionally, shutters have incredible curb appeal, meaning they look beautiful from the street.
DURABILITY
When you purchase quality shutters for your home you are investing in something that should last you decades. There are no cords and strings that could potentially tangle and no fabrics that could stain or snag. Shutters are hardy products that can definitely stand the test of time if cared for properly. Shutters typically have double the life of other window covering products, which makes it a no brainer as a good investment!
EASY TO CLEAN
If you are like most and want low maintenance fixtures, shutters are for you! They are extremely easy to maintain and clean. All you need is a Swiffer duster and you are good to go! Also, if something spills or splashes on your shutter it can easily be wiped away with a damp cloth.
VERSITILITY
When it comes to shutters, there are tons design options available. From louver size, hinging, color, tilt-rod, the number of panels, the frame, and so on, the options are numerous. Additionally, shutters are a great option for large and/or odd shaped windows as well as doors. There literally is not a window that a shutter can't cover. Rake windows, arched windows, circles, ovals, half round windows, quarter round windows, track systems for patio doors, and French doors…its ALL possible.
LIGHT CONTROL
Sunlight is easily manipulated by adjusting louvers on a shutter. Angle up, light goes up; angled down, light goes down; angled straight, light enters straight on into the room. Different size louvers provide varying view through as well. If you wish to open your shutters completely and allow full sunlight that is possible as well with many shutter configurations. Additionally, if you desire complete darkness, when shutters are closed you can achieve a very room darkening effect.
Different size louvers ranging from 2.5 inches to 4.5 inches allow for varying degrees of view through. The larger the louver size, the more light is able to enter a room.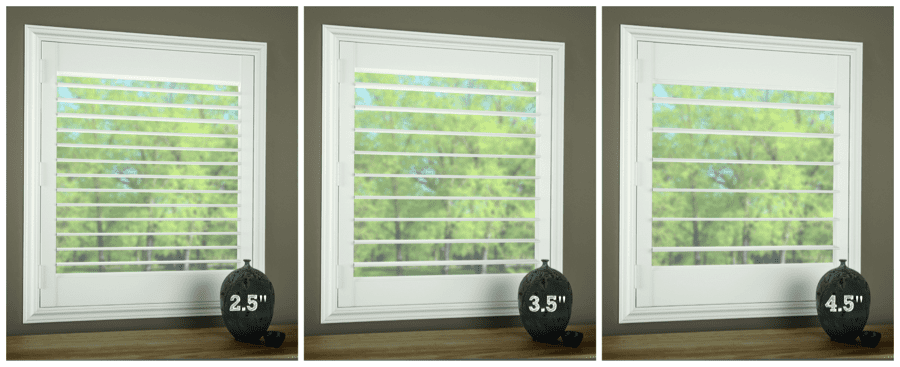 Shutters can allow tons of light to enter a room when the louvers are open, but when closed you can achieve an almost blackout effect.

As with all window covering products, there are the good, as well as the bad. While we personally love shutters, they definitely are not for everyone. I hope that this article helps you decide whether or not they are right for you. If you have any questions or would like to schedule a FREE in-home consultation and estimate, contact us here!