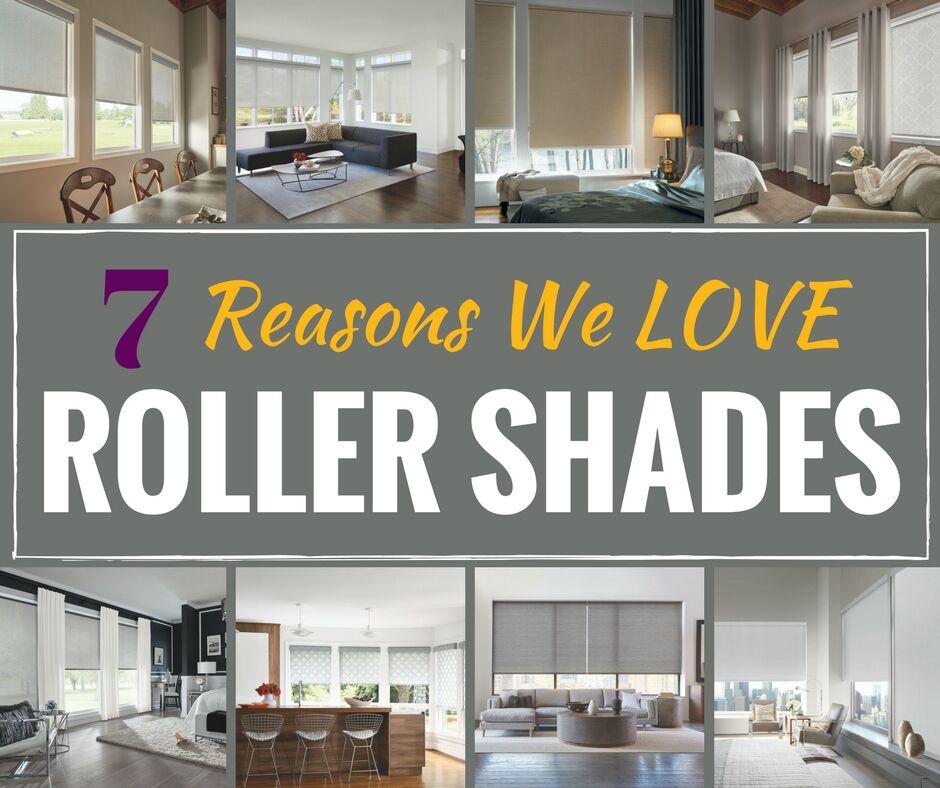 ---
Roller Shade Benefits
The most trending window covering product right now is without a doubt a Roller Shade. With their clean lines and functional use, roller shades are sure to fit in a clean and contemporary design. Gone are the old school shades that would flap up and spin on their roller. Today's shades are both beautiful AND functional. In this article, we will discuss some of the reasons we think Roller Shades ROCK!
1. Ability to Disappear
Number one on our list of why Roller Shades rock, is their ability to disappear completely and give a full view to the outside. This is SUCH a nice feature, especially if our client has a beautiful view or large picture windows. You can choose between a cassette valance, a metal fascia, open roll, or reverse roll. It is simply a matter of personal preference, but the fascia is used most often in commercial settings or for someone who doesn't mind a more industrial look. The standard roll can expose the backside of the material, so that is why there is an option to reverse the roll direction (just be aware of possible light gaps with the roll coming off the front!)
2. Solar Shades – Roller Shades with View-Through
Solar Shades, a variation of Roller Shades that have an open weave in the fabric, can actually maintain your view to the outside even when completely lowered. Lower levels of openness (1% and 3%) are more densely woven, offering more privacy and blocking more heat and damaging UV rays. Shades with higher percentages of openness (10% and 14%) have more open space woven in the fabric. This allows for a better view outside with less privacy.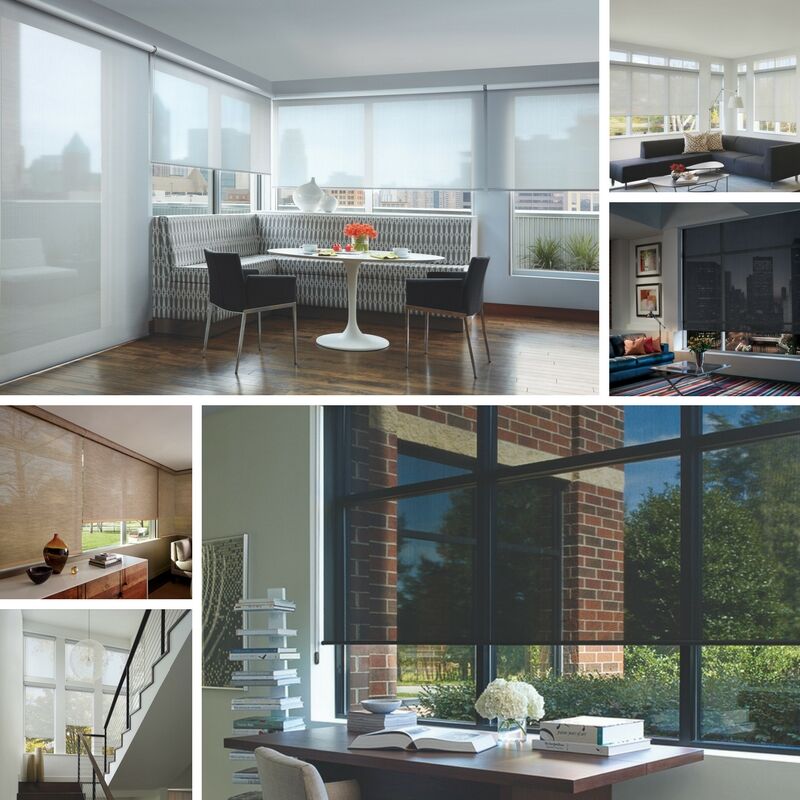 As you can see from the photo below, Solar Shades provide complete privacy during the day and still allow view through, but at night the opposite becomes true. For this reason, Solar Shades are very popular in commercial settings where privacy is not really an issue. However, we are seeing solar shades gain traction in residential applications where privacy is not a concern.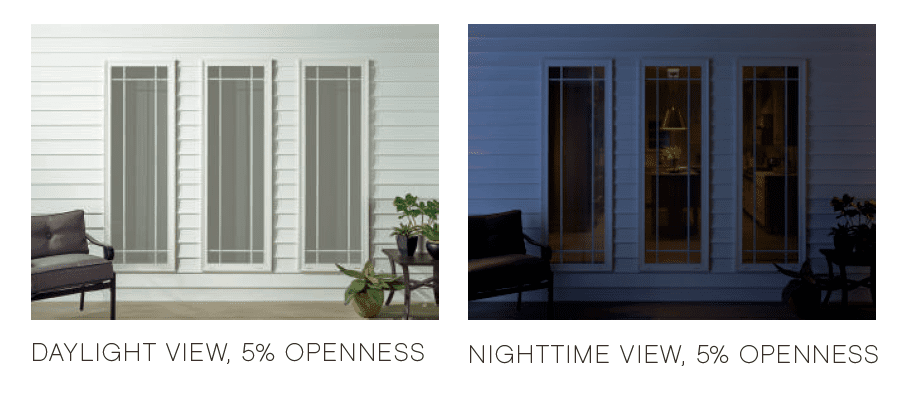 3. Dual Shades – THE BEST OF BOTH WORLDS!
Furthermore, there is a product available that offers the best of both worlds! The Dual Shade (seen below). This innovative solution features two fabrics working together allowing filtered light and view-through when you want it, and complete privacy when you need it.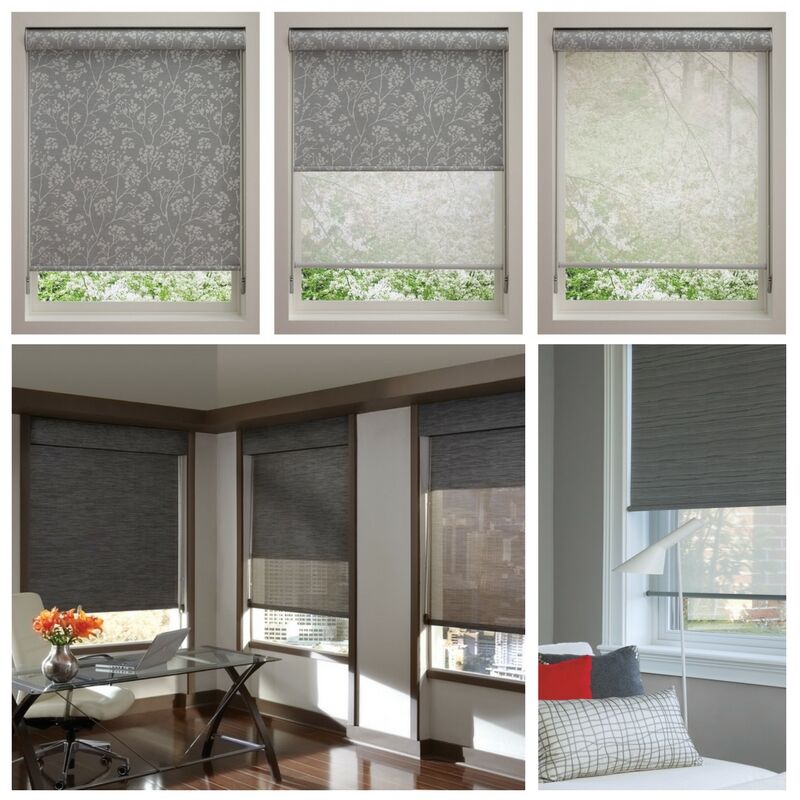 4. Sleek and Safe Control Options
If you are desiring clean lines and no messy cords OR if you have child safety in mind, Roller Shades are for YOU! They are perfect for cordless applications, as well as motorization. Most of our clients choose to motorize their shades for the convenience of control with a simple touch of a button. We are even able to automate your shades to automatically raise and lower at different times of the day!
5. Black Out
Next on our list of why Roller Shades rock is their ability to offer a close to complete blackout solution. With the use of side tracks and a blackout fabric, you can come close to blacking out 100% of the light coming from outside. Want a tip to help you have a better night's sleep? BLACKOUT your bedroom! It is also a wonderful feature for media rooms!
6. Sliding Panels
Have a large window or sliding patio door? Sliding Panels coordinate perfectly with Roller Shades allowing for a unified, cohesive look throughout your home.
7. Fabric Options
Last, but definitely not least on our list of reasons Roller Shades rock is the multitude of fabrics, colors, textures and even patterns available. Roller Shades are one of our most versatile window covering options. There is most definitely a style to fit your décor.
Conclusion
Roller and Solar Shades are versatile, beautiful, and functional window covering options that are here to stay! If you would like to learn more about Roller/Solar Shades contact us here, or give us a call, (210) 724-1280. We offer FREE in home design consultations and estimates. Let us bring the showroom to YOU!